How You Can Help Us
We always need
donations of:
• Tinned Cat Food
(meat based in jelly,
no fish or gravy)
• Clean paper pet bedding &
puppy training pads
• Old Towels/Bedding
• Dried mealworms
• Feeding Syringes
• Single Use Sterile Needles
• Anti-Bacterial Hand Gel
If you would like to donate
via the wish list please note
the delivery address is :
West Midlands Hedgehog Rescue,
47 Leveson Avenue,
Cheslyn Hay,
Walsall,
West Midlands
WS6 7BN
We also accept monetary
donations via bank transfer to the West Midlands Hedgehog Rescue
Paypal to
Welcome to WMHR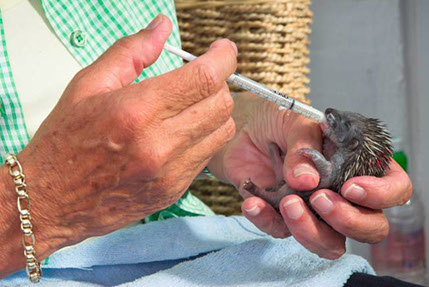 West Midlands Hedgehog Rescue is run by experienced hedgehog carer Joan Lockley. During her career she has saved thousands of hedgehogs.
Her aim is to always act in the best interests of sick, injured and distressed wild native hedgehogs. She'll never refuse a call for help, and will either look after the hedgehog in our purpose-built West Midlands Hosprickal, or help you find another carer in your area if you're not in her region.
Joan is always on a mission to educate people as to how they can help hedgehogs and about the worrying decline of the species. She holds regular educational talks and recently featured in Episode 1 of Nature Nuts with Julian Clary on ITV1. In October 2015 Joan won an IFAW Animal Action Award for her work with hedgehogs, and in October 2017 the IFAW followed this up with a wonderful blog post on their website entitled 'A Day in the Life of a Hero Hedgehog Helper'. In 2020 Joan featured in Channel 5's 'Saving Britain's Hedgehogs' with Steve Backshall and Brian May.
This short film by our supporters and friends Rob and Tanya explains more about WMHR
If you find a sick, injured, orphaned or distressed hedgehog it will require expert attention and care. If you are located in the West Midlands or Staffordshire please call us on 01922 419532 or 07837 409533.
If you are outside our region please contact The British Hedgehog Preservation Society on 01584 890801 to find the carer for your area.
Please do not use Facebook or Twitter to report a hedgehog in need as these services are manned by volunteers and you may waste time using these methods. Always phone us.
Our Open Day is back! Due to Covid we haven't been able to hold our annual Open Day - our major fundraiser - since 2019. So we are very much looking forward to the return of our Open Day which will be held on 4th September 2022 (Sunday) between 11am and 4pm. New for this year we have live music. Food will be available and there will be some fantastic stalls, games and of course a tombola with excellent prizes.
The Open Day will be held at Hawkins Sports & Social Club, Coppice Lane, Cheslyn Hay WS6 7EY
Please come along and support our work rescuing the native hedgehogs of the West Midlands.
To share the event and invite your friends on Facebook please CLICK HERE
​